Oven Fresh!




10/11/2004
Starting making this after I got back from class in the early afternoon. The
finished product was completed two hours later. Today is Abel's b-day
so I thought why not try to make a cake, but I had to improve upon
past creations and this triple choco cake is the result.



Double Chocolate Cake

Triple Chocolate Cake (whole)

Triple Chocolate Cake (slice)




9/27/2004
Made these two, along with other goods, during my two and a half weeks of
summer vacation. The coconut custard was made today, and the Apple Crumb
Pie was made two weeks ago.
Mmm... Tomorrow is my birthday, What shall I make for myself? >:D



Coconut Custard Pie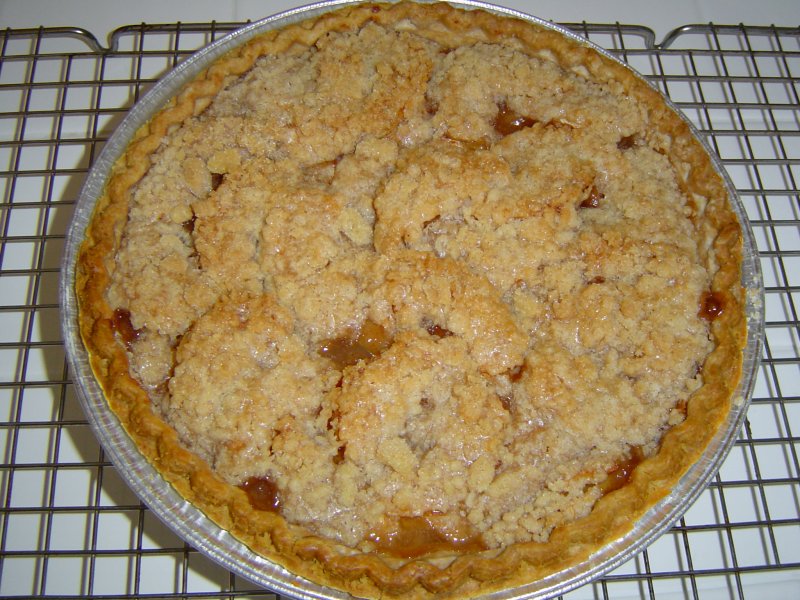 Apple Pie with Crumb Topping




9/09/2004
These were created yesterday, the day before I had
two finals (today), in the morning after my first class! :D
A new look and flavor to an old favorite.
Another thanks to Paul for letting me use his cupcake pan (again).



Brown Sugar 'n' Cinnamon Crumb Mini-Muffins




9/03/2004
Made these last night and they came out good for my first try.
I gave had my guinea pigs try them and they disappeared fast!
And a thanks to Paul for letting me use his cupcake pan.



Mini-Muffins




2/12/2004
This I made over this past winter break.
And I have to admit it's one of the best designs I've seen or made.



(Chocolate) Marbled Cheesecake




2/9/2004
Got bored of chocolate cakes so I decided to make these. No oatmeal or choco chips this time.



Chunky Peanut Butter Cookies




12/10/2003
Finished a final and decided to make these cookies.
These are just awesomely yummy! They really are the best of both worlds. =)



Oatmeal Peanut Butter Chocolate Chip Cookies




11/27/2003
Thanksgiving morning I made a cheesecake and fancy chocolate shortbread cookies.
All while enjoying Thanksgiving break at home.



Chocolate Shortbread with Nuts, Jam, and a Hershey's Kiss

Marbled Cheesecake




11/23/2003
Had an early thanksgiving potluck dinner tonight at Kevin's place. Dishes included
flank steak (Kevin), cabbage with carrots (Jenny), mashed potatoes, and ma-bo tofu (Renzo).
Dessert was made by yours truly, which was oatmeal peanut butter cookies.
And yes, they taste way better than they look. =P



Oatmeal Peanut Butter Cookies




11/14/2003
Baked these two batches over at Kevin's place and left them to be devoured by their roommates.



Shortbread with Strawberry Jam with Milk Chocoloate Drizzle

Sugar Cookies




11/11/2003
Finished steamed vegetable dinner and felt like it wasn't enough
so I decided to bake something sweet. Finished baking as of 12:14AM PST so these will
be considered a special for Veteran's Day, as told by Paul. =D



Shortbread with Milk Chocolate Topping




11/04/2003
Yes, once again I'm bored when I should be studying for my midterm (tomorrow) so I decided to
bake and here is a picture of what I just made in the past hour. (now is 12:41AM PST)



Shortbread with Boysenberry Jam